Cottonwood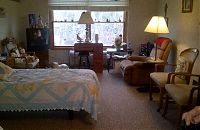 Valley View's Assisted Living Community is the best of both worlds. An Independent living experience, with personal care and health services available 24/7 when you need them. Cottonwood is a unique, ideal alternative for those who don't need the total care services of a "nursing home".
We understand that caring is more than just a room and staff somewhere down the hall. Like family, we are here to provide you with that helping hand you sometimes need, as well as the independence, security and comfort we know you'll want. 13 private studio suites make up this close knit community, where every resident feels truly at home. They look out for each other, rave about the staff, and live each day as they choose.
Click here for contact information or to schedule a tour, Cottonwood usually has a waiting list, so don't hesitate to learn more now.
Photos
---